NCKU-Purdue's LOI to further collaborate R&D and Talent Development For semi-conductor and Sustainable Manufacturing
Written by Sarah Wu. Image credit to Sun Yao-Tien.
NCKU-Purdue's LOI to further collaborate R&D and talent development f
or semi-conductor and sustainable manufacturing
A Letter of Intent (LOI) is signed by Dean Yan-Kuin Su(蘇炎坤) for the NCKU Academy of Innovative Semiconductor and Sustainable Manufacturing (AISSM), and Dr. Mark
Lundstrom, the Interim Dean for The College of Engineering of Purdue University
, with an aim to further enhance the collaboration of academic exchange, R&D and talent development in the sector of semiconductors and sustainable manufacturing.
"This is the first joint force between top-tier universities in Taiwan and the United States, also a milestone for NCKU's long-term partnership with Purdue University. It's a deep connection dating back to 1953," said NCKU President Su.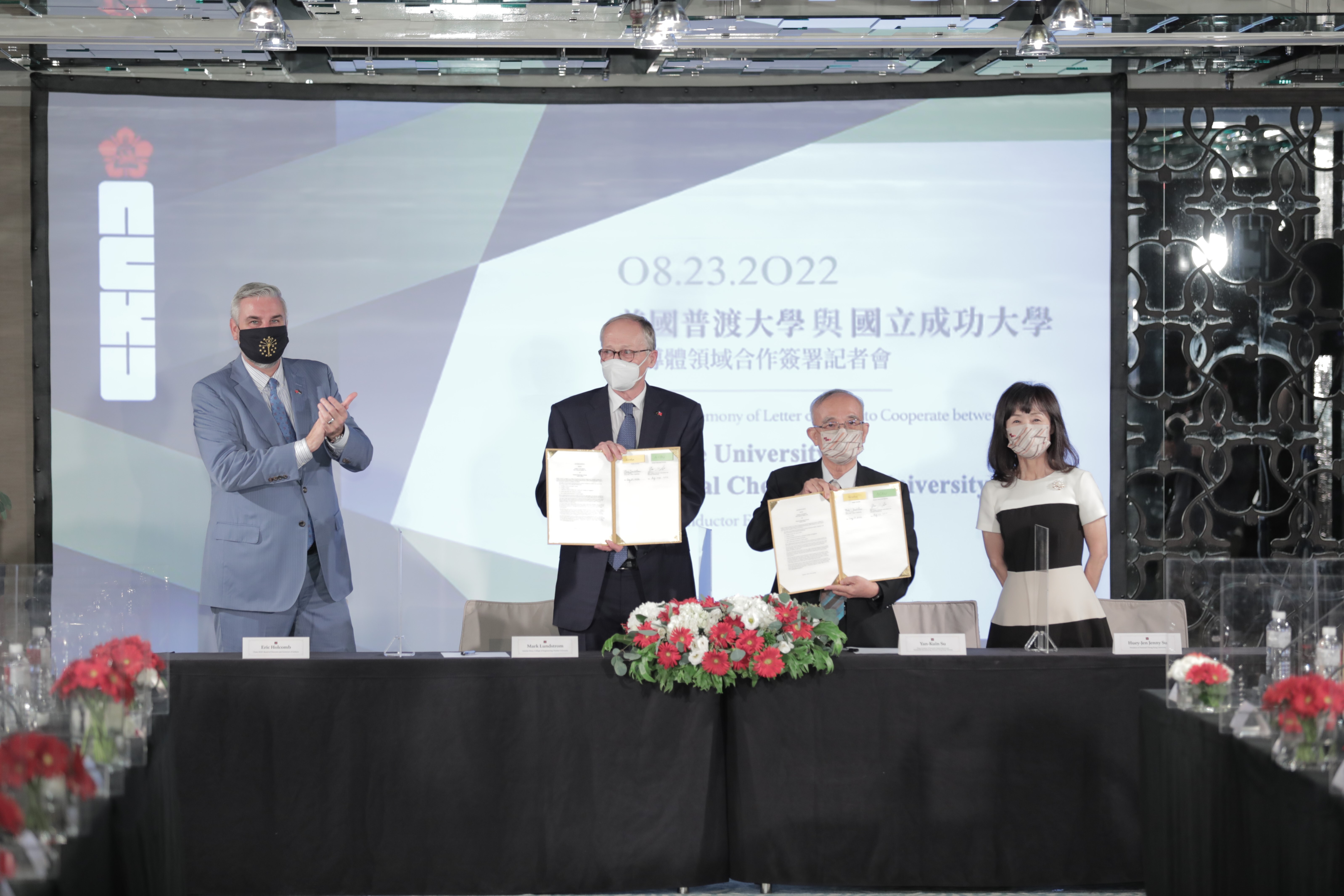 Mark
Lundstrom, the Interim Dean for The College of Engineering of Purdue University and

Yan-Kuin Su, Dean for the NCKU AISSM

signed the LOI together
NCKU-Purdue partnership was firstly established as part of the 1950 USAID project and now extends into the global digital transformation in the 21th century. President Su says, "Purdue plays an instrumental role in the NCKU's transformation from an engineering college then to a leading comprehensive university today. Now both universities are extending the collaboration to the field of semiconductor and smart manufacturing."
AISSM, launched in 2021, is the first University-based academy for semi-conductor manufacturing with intensive industry collaboration programs in Taiwan. It commits to talent development for semiconductor manufacturing and customizes five technical degree programs, including Integrated Circuit Design, Semiconductor Process Technology, Semiconductor Packaging and Testing, Key Materials, and Smart and Sustainable Manufacturing. Global trends and cutting-edge technology are also included in the programs, including the Artificial Intelligence (AI), Big Data, Internet of Things (IoT), Smart Manufacturing, Sustainable Circulation System, Green Energy and Carbon Neutralization.
President Su suggested that NCKU students could enhance their global visibility through cooperating with Purdue University
AISSM, notes President Su, is financially supported by the leading semiconductor companies and the National Development Council, as purpose-built graduate school to serve the development of semiconductor manufacturing technology. Based in NCKU Tainan campus and Southern Taiwan Science Park, AISSM offers curriculums for professionals in Kaohsiung city as part of the Asia New Bay Area development projects, aiming to boost the regional development in southern Taiwan where semiconductor manufacturing business emerge.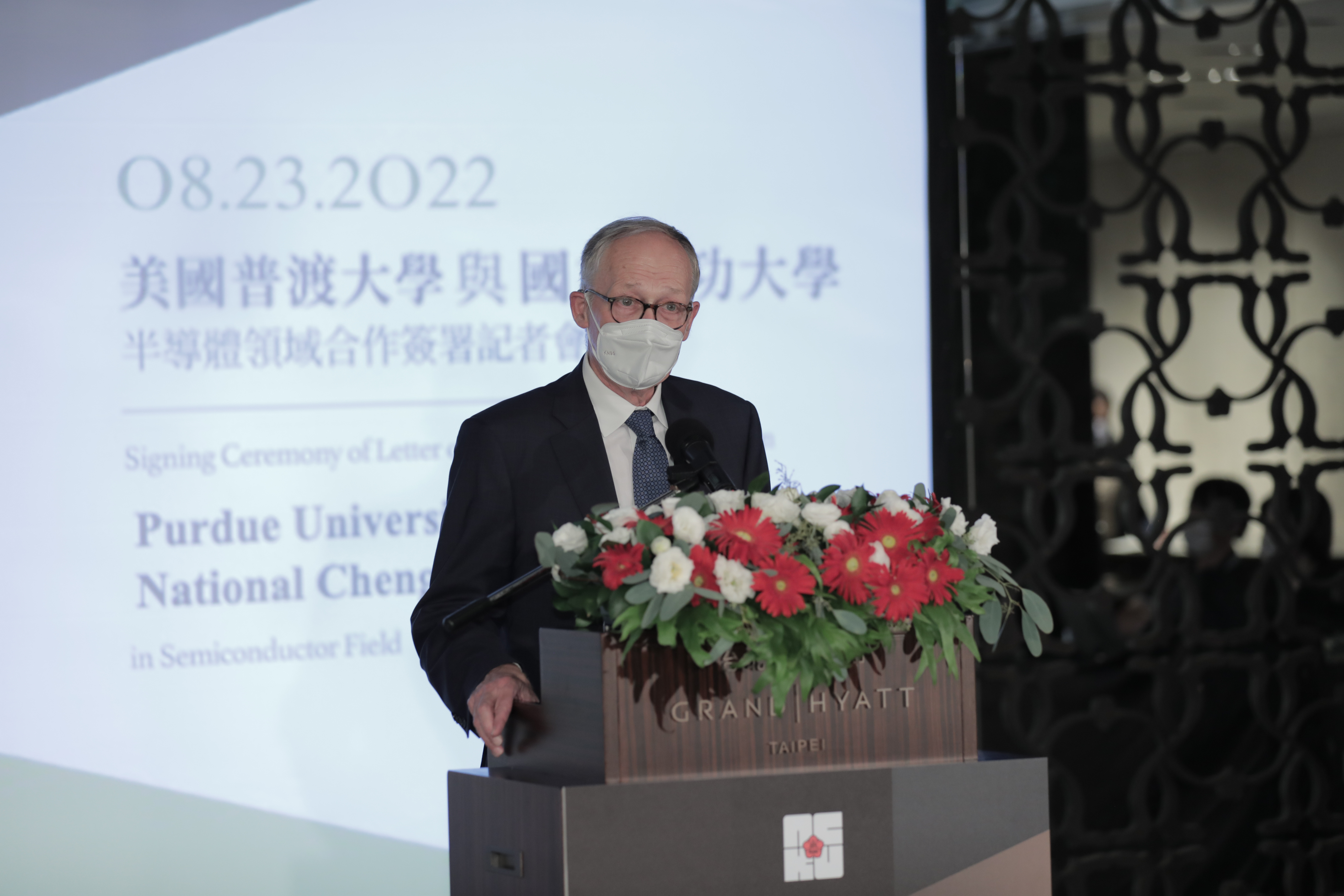 Dr. Mark
Lundstrom though this LOI brings the cooperation between NCKU and PU to a higher level
"The LOI expands our longstanding partnership, by adding new program focus on semiconductor and microelectronics, a critical challenge to both of our nations," said Dr. Lundstrom. "We have identified two key technical areas that address critical needs of semiconductor industry, where we have strong faculty to faculty connection: Advanced Packaging and heterogeneous integration, and Sustainability and green semiconductor Manufacturing. "
Eric J. Holcomb said he was glad and honor to participating in this meaningful moment
In addition to Semiconductor, NCKU and Purdue have also developed a dual degree for Aeronautics and Astronautics in 2019. Eric J. Holcomb, Governor of Indiana, was invited to witness the LOI signing ceremony and stress on the well-known achievement of Purdue University as the "cradle of 27 astronauts", including Neil Armstrong, the first person on the moon in 1968, and Gene Cernan, the most recent person on the moon in 1972.
The LOI signing ceremony was also attended by Dr. Yen-Yi Lee, the Director General of the Department of International and Cross-strait Education of the Ministry of Education and the NCKU faculty team led by Dr. Woei-Jer Chuan, the senior Vice President and Dr. Tsair-Fuh Lin, Vice President for R&D.
A panel discussion was later organized with leading semi-conductor business executives, including Diodes Incorporated, Macronix, Advanced Semi-conductor Engineering, Ancora, Himax Technologies and Yageo for future cooperation.
With the newly adding LOI, NCKU and Purdue will continue to align R&D and talent development and collaborate with industry partners in the sectors of semiconductors and sustainable manufacturing. President Su concludes, "we will lead the way together with cutting-edge research and curriculum development all with the goal of preparing the workforce, such as engineers, scientists, and professionals to support the semiconductor industry for decades to come."
Eric J. Holcomb, Governor of Indiana, sent a present to NCKU President Huey-Jen Su on the LOI signing ceremony
【NCKU-Purdue collaboration】
In 1952, Funded as part of the U.S. aid program, the Purdue-Formosa Project was funded by USAID and transformed NCKU to a leading comprehensive university and a powerhouse to technology development in Taiwan. Prominent Purdue faculty, such as Norris Shreve and Lillian Gilbreth, led or participated through the 1950s.

In 2009, President Su visited Purdue University for the first time on a mission to carry out the MoU signing by former Vice President Da Hsuan Feng and then Provost William Woodson of Purdue University.

In 2019 and 2020, four dual degree agreements were established between the counterpart schools and departments in Engineering of the two universities.

During 2016-2021, 103 co-authored publications were published by the collaborated NCKU-Purdue faculty team. Purdue University is the number one US alma mater of NCKU's faculty.

In 2023, the first cohort of the program students, 19 NCKU students, will go study in the schools of ECE, ME, and AAE at Purdue University to pursue their NCKU and Purdue degrees.