University of Southampton, NCKU sign MoU to foster academic cooperation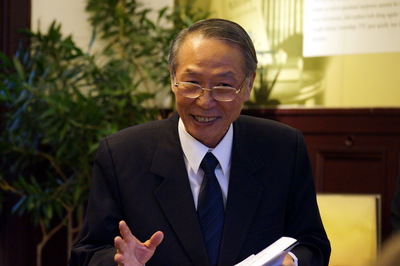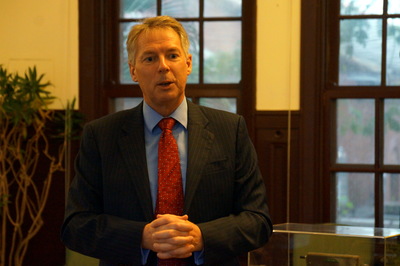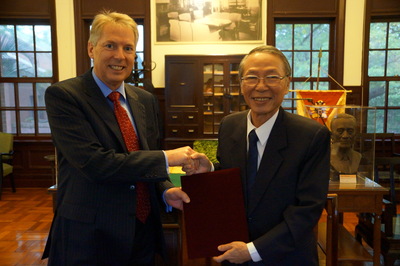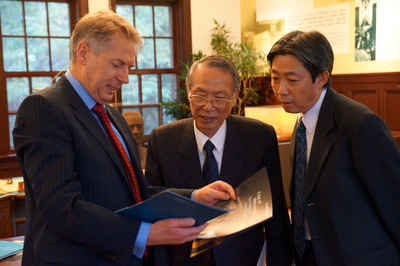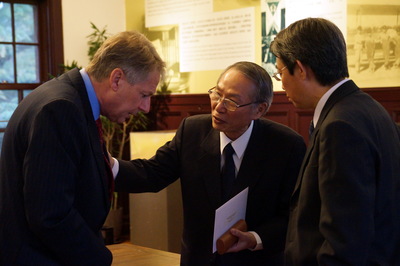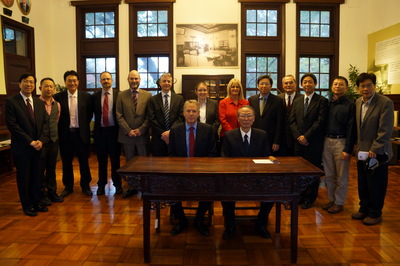 Tainan, Taiwan, December 11, 2013

National Cheng Kung University (NCKU), southern Taiwan, and the University of Southampton (UoS), United Kingdom, signed a Memorandum of Understanding (MoU) Tuesday afternoon, for developing academic exchanges and cooperation in teaching and research in furtherance of the advancement and dissemination of learning.

NCKU President Hwung-Hweng Hwung and UoS Vice Chancellor Professor Don Nutbeam signed the MoU on behalf of the respective organizations.

With the MoU, more opportunities for exchanges and cooperation and joint research and development in disciplines of mutual interest are expecting to be identified, according to President Hwung.

He said, "To become a world-class comprehensive university, we have driven ourselves in establishing relationship with top-tier institutions and in enhancing our academic achievements through cooperation with elite researchers worldwide."

Vice Chancellor Nutbeam commented that the official signing of MoU will initiate academic exchanges, including mutual visits of faculty and school members to pursue research and to lecture, and student exchanges on a reciprocal basis.

He also noted , "It' s a real pleasure that the relationship that we have been building is now becoming stronger and more formal, and I hope that both our students and our faculty members can benefit from this strengthened relationship."

President Hwung said, "University of Southampton is well-known in the fields of optical fiber and electrical technology, with top rankings in Computer Science, Chemistry, Medicine, Social Science and Humanity worldwide."

"I think we have similar interests in Optoelectronics, Photonics, and Computer Science, in particular in Naval Architecture, or even Maritime Science which is a great strength of the University of Southampton," according to Vice Chancellor Nutbeam.

"The academic and research strengths of University of Southampton are well known globally" according to President Hwung who hopes that through mutual interests, "our two universities will create interdisciplinary collaborative programs and establish profound and close relationship soon."

At the signing ceremony, President Hwung also pointed out that NCKU has been honorably granted the second phase "Aim for the Top-Tier University and Elite Research Center Development Plan" project promoted by the Taiwan's Ministry of Education and has received 51.6 million US Dollar annually for 5 years from 2011."

NCKU is aspired to cultivate future leaders with creativity, humanism, global vision and profound social consciousness, and educates interdisciplinary researcher for the benefit of the society and mankind.

Founded in 1952, Southampton is ranked among the top 75 universities in the world and students have access to top-notch research facilities and learn from researchers at the cutting edge of their fields.

The UoS delegation includes Vice Chancellor Nutbeam, Prof. Tom Irvine from the Department of Music, Prof. Peter Smith from Physical and Applied Sciences, Electronics and Computer Science & Optoelectronics Research Centre, Prof. Martin Charlton from the Faculty of Physical Sciences and Engineering, Prof. Cheryl Metcalfe from the Faculty of Health Sciences, Prof. Chris Sinclair from Modern Language, and Mrs Karen Arnold from Regional Director East Asia.