NCKU turns old library into a start-up-friendly platform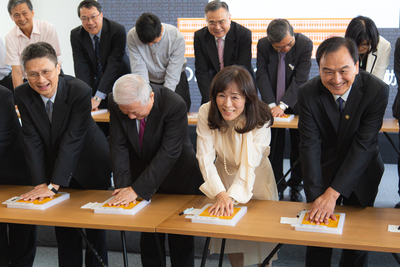 National Cheng Kung University renovated its old library and reopened it Nov. 14, marking a new chapter of its dedicated development of cross-field entrepreneurship and start-ups.
Completed 60 years ago with the assistance of Purdue University, the old "K Building" now has a cool name: the "NCKU Future Atelier." Under the assistance of Bank SinoPac, the new construction is the new home of a Bank SinoPac branch which integrates smart fintech that features Atelier Future, which can analyze marketing models and increase sales efficiency by 225%; NCKU Accelerator and the College X, an integrated platform between the academic and private sectors with the aims of achieving Sustainable Development Goals.
The NCKU Accelerator is a subsidiary of the school's profitable Global Research-Industry Alliance (GLORIA). The accelerator will serve as a broker or a strategic partner with counterparts from home and abroad, integrating the capital and all the school's start-up accelerators, with the aims of maximizing the commercialization and between the private and the academic sectors.
NCKU President Jenny Su, NCKU Vice President Su Fong-Chin, SinoPac Holdings Director and President Stanley Chu, and Southern Taiwan Science Park Bureau Deputy Director-General Su Chen-Kang all attended the inauguration ceremony, expressing mutual hope that the three organizations can work closely in the future to tap into the smart technology.
"Such transformation is a boost for our school, symbolizing the link between the past and the future," said Jenny Su, adding that the College X is a bold move for the academic sector.
The College X was initiated in 2018, and has been a cross-field, self-learning platform where teachers and students can realize their creativity, solve practical problems and embody the school's spirits and values, the president said, noting that the college has already incubated two start-ups.
The College X has already been working with the College of Liberal Arts, and plans to connect with the colleges of design, engineering and even medicine, according to the Tainan-based school.