NCKU Trees Now Come in QR Codes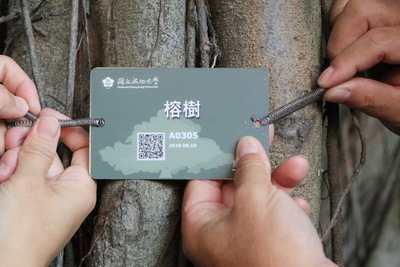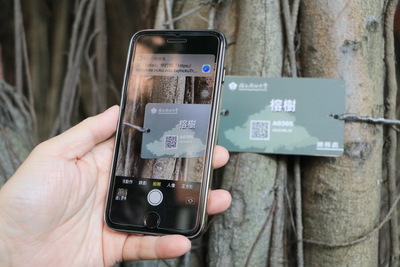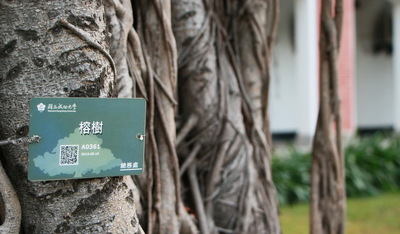 The trees on the NCKU campus are so tall that many people come here to take in those phytoncides, often taking photos and check-in on social media in the Banyan Garden. Now you can even talk to the old trees. The NCKU office of general affairs has hung up QR codes on these aged trees. By scanning the QR codes with your phone, a mobile app will connect you to the "NCKU Tree" web page (
https://nckutree.ncku.edu.tw/nckuTree/
) where you can browse the information. Any issues or problems with the trees can also be reported immediately through the application from which school officials can take the necessary measures to protect these trees.
Liu Yun-kai, the director of General Service Division of the NCKU Office of General Affairs, said that he received a fair share of suggestions from the public to place tree-related information signage on the campus trees. Now, with the ubiquity of smartphones, anyone can get information on these trees with a simple scan of a QR code, which is more ideal than simply having textual signage. The "NCKU Tree" website provides clear information on two or three thousand trees in the school, of which nearly four hundred are paired with QR code cards as well as their Chinese and English names, growth type, tube classification, and whether they have bird nests.
NCKU Trees are numbered and managed by GPS positioning coordinates. Tubular plants are divided into 6 categories: precious old trees, old trees, quasi-old trees, big trees, small trees and special plants. The QR codes on NCKU trees support Apple's iOS; support for Android OS users will be soon to follow.
The most famous of NCKU's trees is the old banyan tree in the Banyan Garden on the Guangfu Campus. It was planted by the Crown Prince Hirohito himself (later Emperor Showa) in 1923. The tree appeared in a special report in the Sankei Shimbun in October 2019. The old banyan tree's mushroom-shaped appearance attracts travelers to stop and take in the banyan tree for all its worth. The banyan tree is an iconic landmark that remains in the memories of all those who visit the campus.
The strong winds and incessant rainfall from Typhoon Soudelor in 2015 had cleaved the banyan tree in the southeast corner of the Banyan Garden in two, much to the dismay of current students and alumni. So in the same year of the school's anniversary celebration, alumni donated a total of NT $5 million in tree protection funds with which NCKU launched a series of operations for the protection and restoration of the tree. The operations were successful in restoring the tree to its former luxuriance if not more so.