The Tainan PinkDot explores the topic of gender expression in its sixth year of campaigning for gender equality
The Tainan PinkDot enters its sixth year on its quest to promote sexual equality. This year, gender expression is the central topic for the campaign, serving as the focus of discussion in the featured events. To spark engagement, the organizers put together an interactive SNS event suggesting the use of the color pink, live streams, and talks on the LGBTQ+ experience, as well as a workshop to debunk toxic masculinity.
This year, with the topic of gender expression, Tainan PinkDot explores the concept of masculinity and challenges traditional gender stereotypes, welcoming participants to reconsider how men or women should behave. Ski, the chairperson of NCKU TO. Lesbian and Queers Club and also the person in charge of 2020 Tainan PinkDot, expressed that our everyday life is filled with expectations of gender behavior, where people will be put under scrutiny or even distrusted if they fail to meet label norms.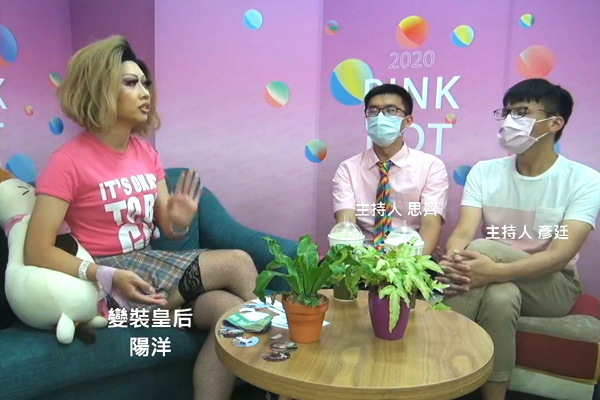 Guests shared their stories during the live stream on May 17th
Earlier in April, a story of a boy refusing to wear a pink face mask because he was afraid of getting bullied for wearing pink-colored items stirred up discussion among Taiwanese citizens. This story revealed the toxicity of the stereotypical gender roles and expression currently affecting society. Even though sexual and gender equality issues have been gaining more attention in Taiwan over the past decade, during which time the Tainan PinkDot was established and has made continuous efforts over a period of six years, to this day there still are societal misconceptions of LGBTQ+ people and inequality in the community.
The P-Link event, an interactive Facebook event sponsored by Tainan PinkDot, encourages people's participation to share pictures of themselves wearing pink clothes or accessories, as a supportive response to the recent #ColorHasNoGender movement. In light of the pink mask incident, this movement came to exist when many Facebook users made their profile pictures pink-themed to show support for gender expression equality. P-Link has an open event page that allows Facebook users to share their pictures any time they wish.
On May 6th, Taiwanese drag queen FeiFain was invited to introduce the history and experiences of drag queens in the talk "Life to Drag: Introduction to a Drag Queen and Experience Sharing."
A workshop taking place on May 23rd, "Born to Be Men, Thing to Be Borne. Workshop: Revealing Masculinity," is aimed toward leading participants to reexamine the concept of masculinity through speeches and group activities. The workshop will focus on how males are affected by the concept of masculinity through their expected gender roles in different types of relationships.
The main event was broadcast live on the Tainan PinkDot Facebook page on May 17th, featuring short talks from multiple speakers. The speakers came from various backgrounds, and each had their own stories and viewpoints to share related to different aspects of the LGBTQ+ experience.
The Tainan PinkDot is organized under the joint effort of National Cheng Kung University's Gender Equity Education Committee and NCKU TO. Lesbian and Queers Club. Since its first beginning in 2015, the campaign has been promoting the idea of sexual equality from various aspects, such as the civil rights of LGBTQ+ people, accessibility of space for LGBTQ+ people, bodily autonomy, and gender expression. (Writing by Hsu Tsu-yueh)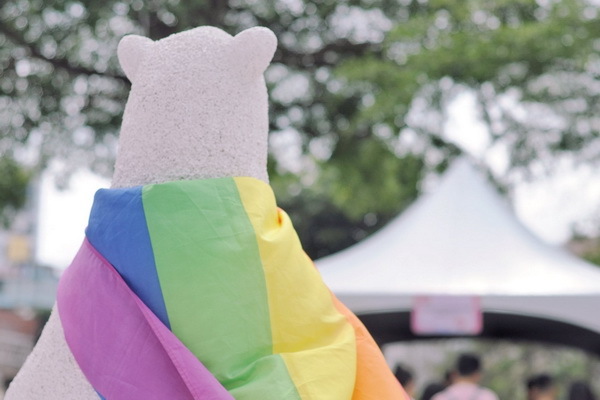 Tainan PinkDot has made continuous efforts promoting sexual equality over a period of six years.
(Photo taken during 2019 Tainan PinkDot. The main event of 2020 Tainan PinkDot was broadcast online.)