Taiwan-Thailand Collaboration in Smart Healthcare and Delta Electronics (Thailand) PCL. Opening International Recruitment
Writing by Hsu Tsu-Yueh. Photo by Liu Tz-You.
National Cheng Kung University (NCKU) and Mahidol University (MU) co-hosted an international webinar, titled "International Academia-Industry Collaboration in Smart & Sustainable Society" on February 25, 2021. Collaborated with Delta Electronics Group, a world-renowned electronic manufacturer, the event introduced the prospect of smart society, composed of Delta online recruitment activities and discussions on potentials of academia-industry collaborations between Taiwan and Thailand, attracting the participation of a total of 310 students from 16 Southern and Southeast Asian region and NCKU.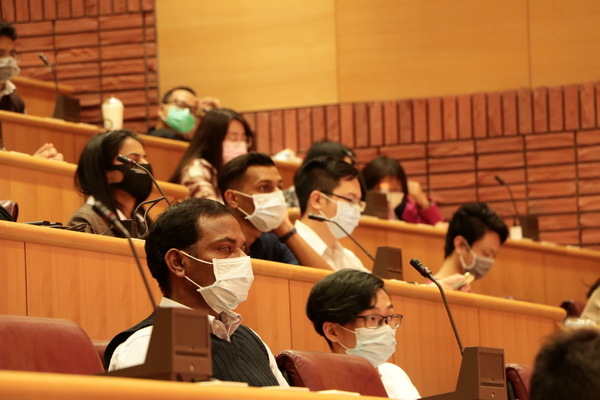 The webinar introduced the prospect of smart society and Delta online recruitment activities
NCKU each year attracts over a thousand students from Southern and Southeast Asian region. Dr. Huey-Jen Jenny Su, President of NCKU, expressed that talents are the most important assets of society. The universities aim to cultivate talents of innovation and resilience, who are able to adapt to the changing world and global challenges quickly. Dr. Banchong Mahaisavariya, MD, President of MU, expressed that the pandemic highlighted the importance of medical care and health system, and that the universities are working hand in hand as partners to learn more effectively in order to contribute to the global society.
Delta Electronics Thailand (DET) under Delta Group is a critical enterprise partner of NCKU Butterfly Program, a collaborative platform for Southern and Southeast Asian talents cultivation. "DET is the Southeast Asian headquarters of Delta Group," said Mr. Jackie Chang, President of DET. "We are very pleased to cooperate with NCKU and MU, jointly cultivating new talents for new technologies for building smart cities." The NCKU-DET Butterfly Program was fully introduced to the students in the webinar, including Delta - 2021 Internship Program for Thai Students in Taiwan, and 2021 Delta Group Indian Student Overseas Employment Program. HR recruiting teams of DET and Delta Taiwan were both online and on-site and ready to recruit new blood for SEA business, including positions of system engineers, electronic process engineers, software engineers, and firmware engineers.
Dr. Ying-Yuan Lee, the ambassador of Taipei Economic and Cultural Office in Thailand (TECO), expressed that the excellences of semiconductor, ICT and precision machining technologies as well as digital healthcare technologies and system contributes to the success in fighting against the pandemic. Via bilateral academia-industry collaboration and research between Taiwan and Thailand, universities can come up with innovative solutions to create a more advantageous and safer environment with smart technologies and functional healthcare systems together.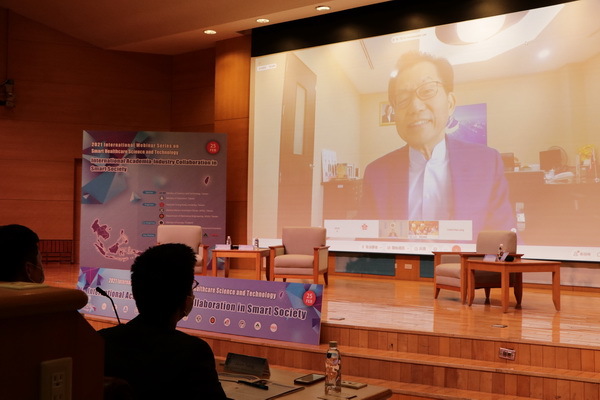 Dr. Ying-Yuan Lee, the ambassador of TECO, participated via online video call
NCKU and MU established a joint research center locally, and since 2020 implemented the Ministry of Science and Technology (MOST) project Taiwan Center for Smart Healthcare Science and Technology in Thailand. Monthly conferences are held to connect interdisciplinary experts from both universities, including their medical centers and industrial partners, fostering cross-border cooperation between research teams from Taiwan and Thailand to accelerate the innovation and development of smart healthcare on both sides.
Since 2016, Thailand government has launched Thailand 4.0 and prioritized healthcare development, accelerating the growth of MedTech research. "Taiwan Center for Smart Healthcare Science and Technology provides more than a collaborative platform," said Dr. Fong-Chin Su, PhD, Executive Vice President of NCKU and Chairman of Taiwan Center for Smart Healthcare Science and Technology. "It offers opportunities for our talents and experts to know better about other countries and make international partners last for a longer time."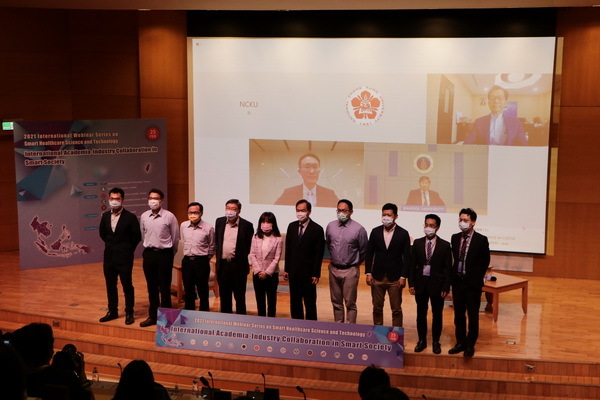 Monthly conferences are held to connect interdisciplinary experts
Taiwan Center for Smart Healthcare Science and Technology co-organized this webinar with Medical Device Innovation Center (MDIC) NCKU, Dept. of Biomedical Engineering NCKU, Office of International Affairs (OIA), and MU, collaborating with Delta Group. Dr. Chih-Han Chang, PhD, Director of MDIC, COO of Innovation Headquarters NCKU as well as Dr. Jackrit Suthakorn, PhD, Dean of Engineering MU presented both Universities' academia-industry collaborations strategies and developments. Dr. Yueh-Heng Li, PhD, Associate Vice President for International Affairs NCKU shared introduction of NCKU Butterfly Program, while Delta Taiwan & DET HR and SEA Regional Business Director introduced Delta business and SEA Recruiting Program. In the panel discussion session hosted by Dr. Fong-Chin Su, the online and on-site panelists received enthusiastic responses from the audience.