NCKU Alumni Found the Nova Scholarship Project to Cultivate Outstanding Talents for Future Generations
Written by Hsu Tsu-Yueh. Image credit to Sun Yao-Tien.
National Cheng Kung University announced the Nova Scholarship Project, a new scholarship funded by the university's global alumni associations, to support outstanding high-school graduates who choose to enroll in NCKU. Each student that meets the criteria will receive a minimum of 20,000 USD (600,000 NTD) from the scholarship. By encouraging students to connect with the global community, NCKU promotes cultivating key talents who will fearlessly shape the new world.
At the press conference, NCKU held a donation ceremony where Keh-Shew Lu, Chairman, President, and CEO of Diodes Incorporated, and Mou-Ying Fu, NCKU Distinguished Alumna, gave a symbolic scholarship check to Huey-Jen Jenny Su, President of NCKU, signifying the hopes and good wishes from the alumni to cultivating future talents.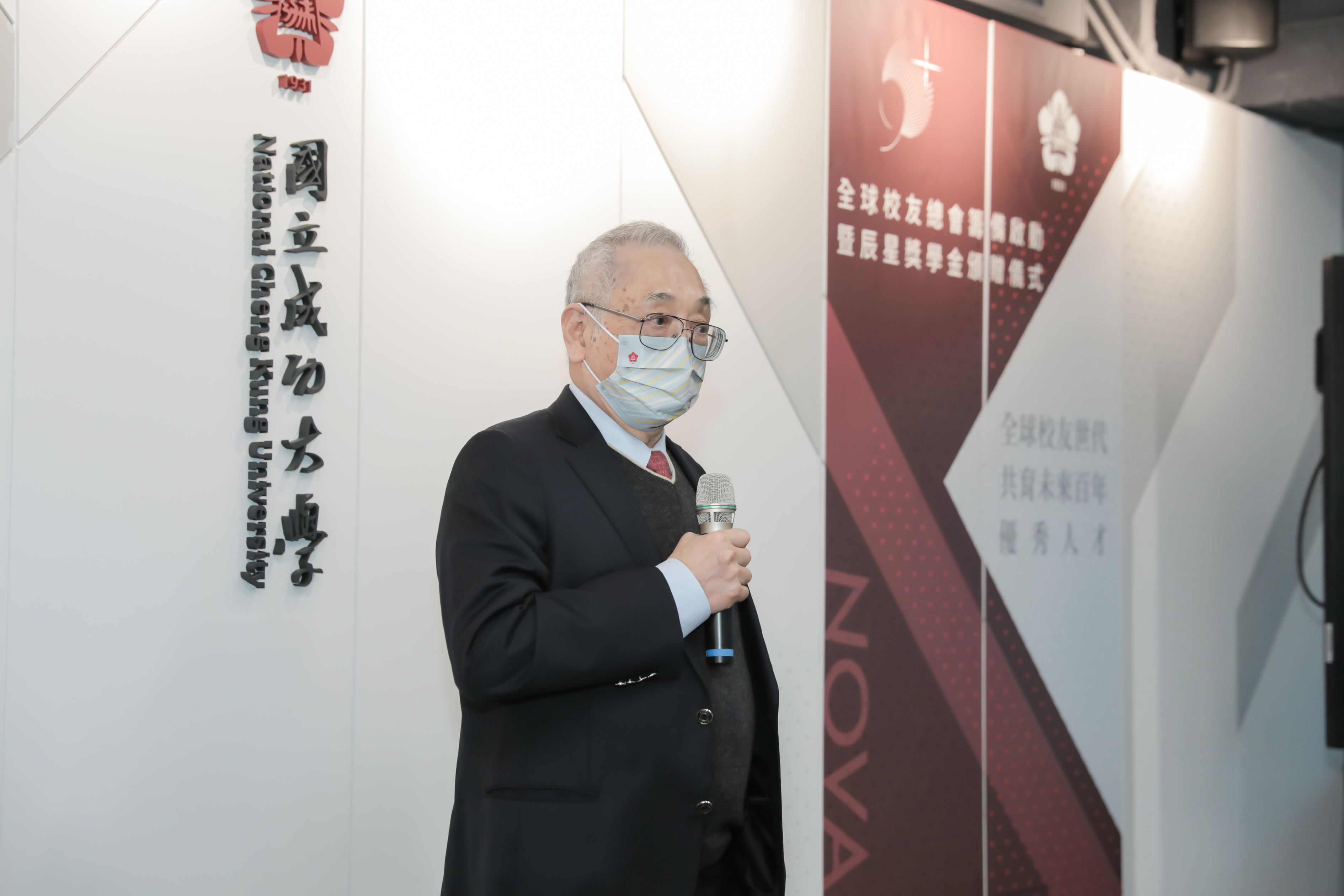 Keh-Shew Lu encourages the younger NCKU students to expand their views and cultivate global competitiveness
Keh-Shew Lu, alumnus of NCKU Electrical Engineering Class 1969, has recently received an Honorary Doctorate from NCKU. He generously donated 300,000 USD to support the scholarship project, hoping to encourage the younger NCKU students to expand their views and cultivate global competitiveness.
"In recent years, I witnessed the power of our alumni associations in how their joint influence bring positive changes to the department and society," Huey-Jen Su said, "I have been deeply touched. I see that in addition to the department, the industry and society have been influenced by lives related to NCKU." She expressed that NCKU was able to persevere precisely because of this strong spirit that has continued to foster connections between alumni.

Huey-Jen Su (right) and Keh-Shew Lu (left) taking a picture with the robot representing Mou-Ying Fu (middle)
Mou-Ying Fu sent her good wishes for the scholarship from North America via a robot provided by BenQ Guru. In an interview, she expressed that outstanding students are outstanding not only for their academic abilities but also for their mannerisms. "The Nova Scholarship is a caring gift from the older generations of this NCKU family. We provide guidance both in professional fields and in life, hoping that the younger generations can fully make use of the resources. This project tightly links all NCKU people together and shows how the NCKU spirit can help with cultivating new talents for the nation and society."
In the face of the changing times, NCKU has proposed that talents for the next generation should possess seven competencies including Imagination, Agility, Critical Thinking, Knowledge Integration, Curiosity, Vision, and Mutual Improvement. Fong-Ching Su, Executive Vice President of NCKU, expressed that the Nova Scholarship Project was founded with efforts from NCKU North America Alumni Foundation and their alma mater, aiming to encourage students to pursue studies and research abroad, participate in international conference, and publishing research papers. NCKU alumni form a caring relationship across generations, with the older generation taking the younger generation's hand and helping the latter in their studies, cultivating top talents that possess global mobility and international cultural literacy. It is hoped that the donations would reach 90 million NTD.

NCKU alumni works with their alma mater to cultivate future talents with Nova Scholarship Project
Ju-Ming Wang, Vice President of NCKU Office of Academic Affairs, expressed that the academic field today knows no borders, and students' learning scope is no longer limited to the university campus space. The Nova Scholarship Project aims to encourage and reward students for going abroad for exchange studies, studying for an international double degree, participating in international conferences, and publishing research papers, which add value to their academic careers. The project plans to fund over 150 students each year, and the reward will be given to students who meet the criteria for outstanding high school students enrollment, the Outstanding Student Award, or recommendation by their department. Each student who meets the criteria and is qualified to go abroad will receive the scholarship of at least 600 thousand NTD.
Moreover, to attract excellent students, each NCKU department has their own scholarship, according to Ju-Ming Wang. Take the Department of Electrical Engineering for example. The students who achieve a perfect score on their General Scholastic Ability Test and place the NCKU Department of Electrical Engineering as their first choice will be able to apply for the department's scholarship, which provides a student with 4 million dollars each year, and can also apple for the university's scholarship for outstanding high school students, which provides 400 thousand dollars. Combined with 600 thousand dollars from the Nova Scholarship Project, the student can receive a total of 5-million-dollar worth of scholarship.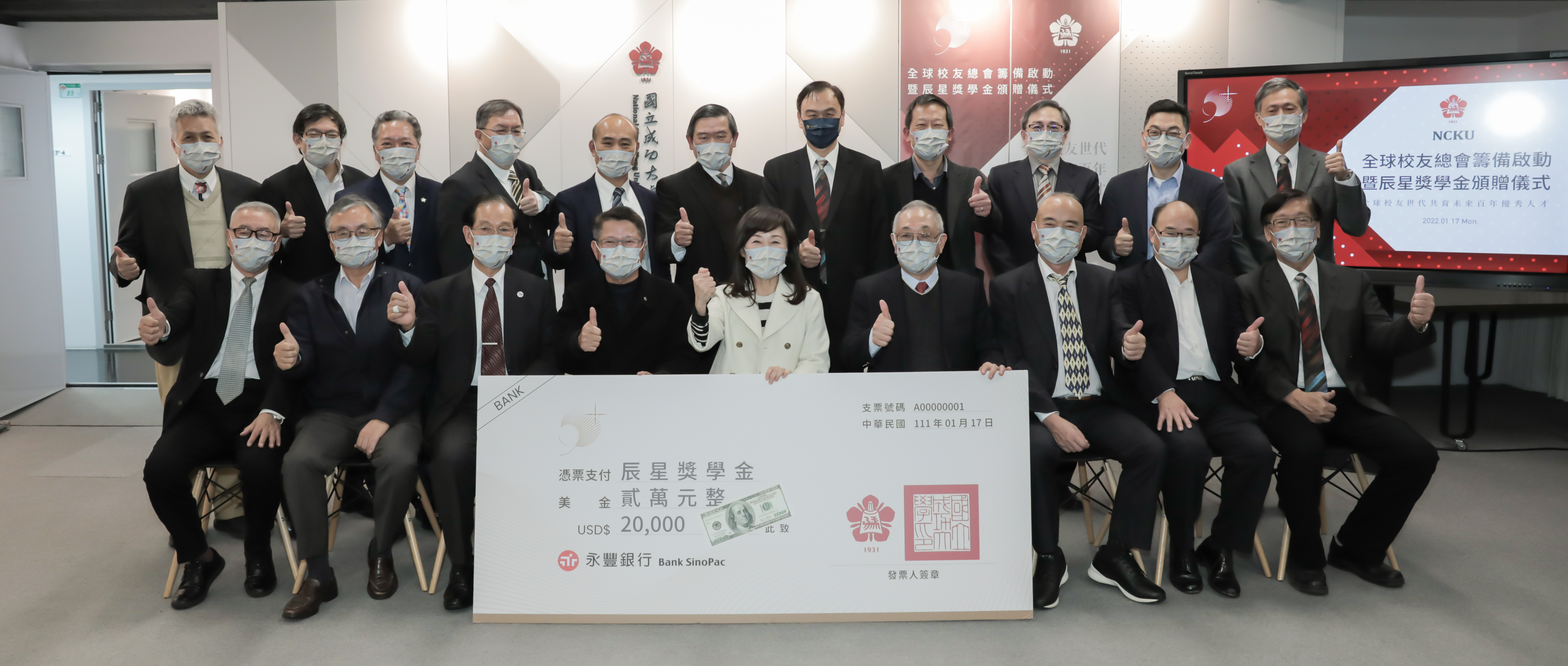 All NCKU alumni are welcome to join in with the Nova Scholarship Project
New enrollments to NCKU undergraduate class has a chance to receive a minimum of 400 thousand dollar scholarship if they achieved excellent grades on their college entrance exam. For some departments, such as Pharmacy and Medicine, the offer is up to 600 thousand dollars. Therefore, the students who meet the criteria for Nova Scholarship will be able to receive scholarships ranging from 400 thousand to 600 thousand on top of the 600 thousand Nova Scholarship, which, in total, reaches 1 million to 1.2 million worth of scholarship.
Fong-Ching Su expressed that NCKU alumni are best at connecting with each other. The Nova Scholarship Project has seen responses from 50 groups overseas. The project aims to attract responses from 150 groups, and invites all NCKU alumni to join in!
NCKU has recently celebrated its 90th anniversary. In the future, NCKU joins forces with its alumni, staying true to the NCKU spirit, and strives to create and connect with resources from all parties. With excellent academic power, teachings, students, alumni and their alma mater write a new definition for the coming era, cultivating academic potential in future generations, and contribute to the society and nation by proposing practical and meaningful actions.