NCKU and AIDC Cooperate to Develop Key Space Technology
Written by Amy Lin. Image credit to News Center
National Cheng Kung University (NCKU) and the Aerospace Industrial Development Corporation (AIDC), the two strongholds of aeronautics, cooperate again since 2019. On March, 28th, 2022, Huey-Jen Jenny Su, president of NCKU, and Wan-June Ma, president of AIDC, who represents Kai-Hung Hu, chair of AIDC, signed a cooperation agreement, which will devote to the upgrading project of the radiation panels of AMS-02 detector. This project will be responsible for research and development as well as design, simulation, manufacture and test.
The project group also dedicates to developing key components, which enables Taiwan to step into independent research and will lead Taiwan to participate in "Space Race Cup." This project aims to finish both engineering and flying units in 2023 and will be launched in 2024.
AMS-02 on space station

(

provided by NCKU

)
AIDC president Wan-June Ma, headed for Science Teaching Building (located at Cheng Kung Campus) to visit "90: A Story of NCKU Space" exhibition and then attended the signing ceremony at Yun Ping Building.
NCKU president Huey-Jen Jenny Su appreciated AIDC for visiting NCKU and stated that
she believed both NCKU and AIDC will celebrate a remarkable accomplishment by this cooperation.
President Ma shows his respect to NCKU's research energy. "Developing space technology and industry is still ongoing and is the striving goal of NCKU and AIDC," president Ma mentioned. "It means a lot to collaborate with the science community. The project will co-work with engineering college and science college, and we look forward to working with every department at NCKU."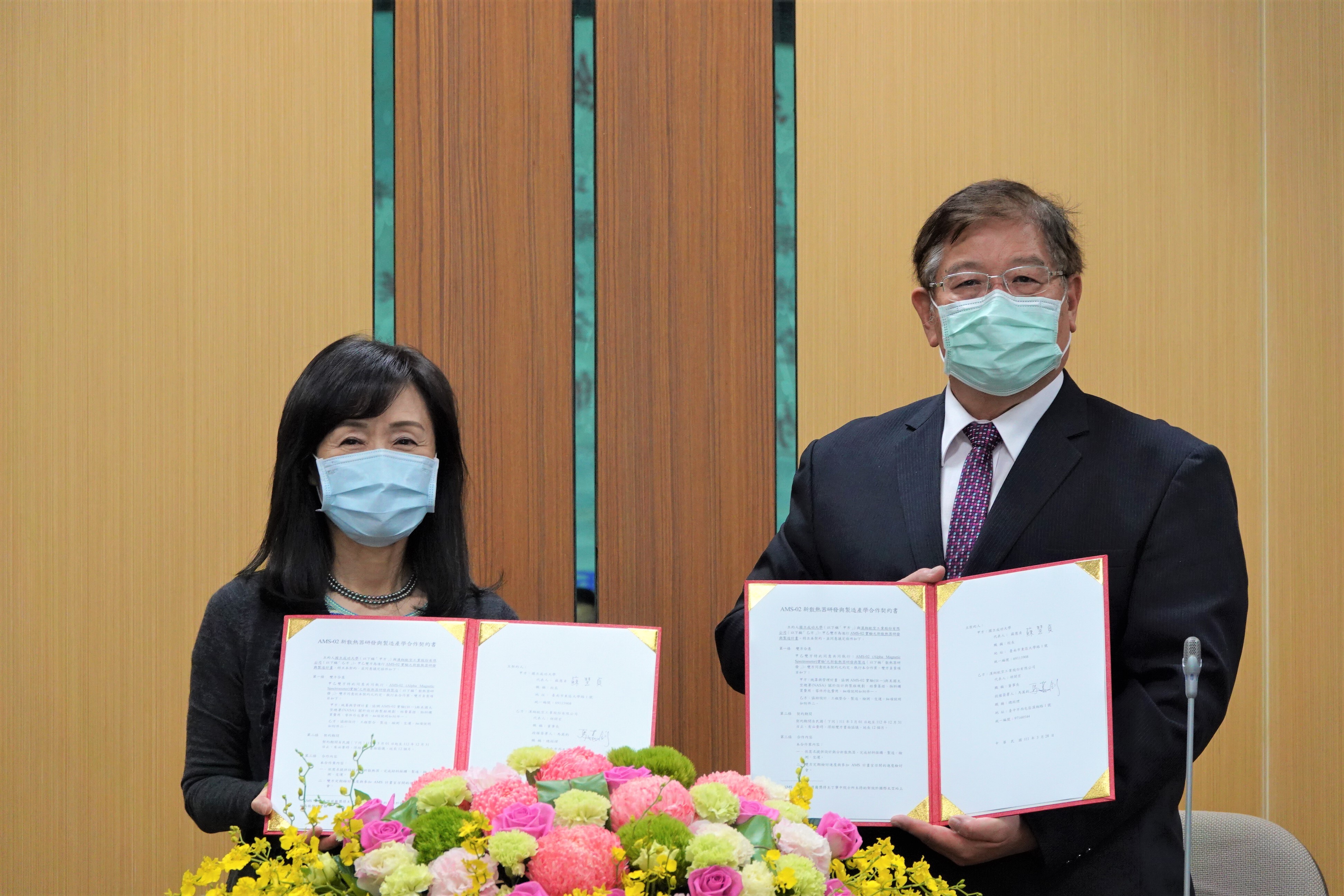 Huey-Jen Jenny Su
, president of NCKU, and Wan-June Ma, president of AIDC signed a cooperation agreement
Due to climate change and the COVID-19 pandemic, the global industry has confronted a considerable challenge. Meanwhile, the space industry has accelerated an
explosive growth, which includes the development of low-earth orbit (LEO) satellites or business travel. Both Taiwan government and industry embrace the trend of space exploration and expect to build another prominent industry chain. NCKU and AIDC lead research and industry of aeronautics respectively, which will make a distinguished contribution to space station project.
Allowing the track detector works until the retirement of the space station ( in 2030), NCKU and AIDC have accomplished the development and manufacture of radiation panels of AMS-02 UTTPS in 2019, which is believed as an incredibly difficult space maintenance mission of National Aeronautics and Space Administration (NASA). This mission is highly praised by Dr. Samuel C. C. Ting, the Nobel Prize winner, NASA, and United States Department of Energy.
The new mission is more challengeable because new radiation panels will be installed on the Alpha Magnetic Spectrometer. NCKU and AIDC are responsible for design, simulation, manufacturing, development and research of new radiation panels. Comparing to 2019 AMS-02 UTTPS project, the mission is more demanding because the research team is expected to evolve key space components in Taiwan.
"It will be a giant leap for Taiwan's space industry," said Dr. Yi Yang, associate professor at NCKU Department of Physics and the leading investigator of this project. The space components and radiation systems need to adapt to extreme space environment, such as extreme temperature differences, elevated levels of radiation, and vacuum environment, which turned out to be the difficulties to the team.
"Aluminum-ammonia grooved heat pipe" is the crucial technique in this project. Dr. Yang points out that aluminum-ammonia grooved heat pipe will radiate the heat through phase transformation. "Ammonia" is the only substance which could work under extreme low temperature (-60

°

C). However, Ammonia is highly toxic and will constitute considerable challenges to the project.
Tsutomu Uematsu, CEO of Uematsu Electric, mentioned "Space exploration aims to let 'impossible' become "possible"
in his autobiography. Though this project can gain the needed components from other international companies, Dr. Yang's research team expects to develop Taiwan's own space radiation system components as well as enhance Taiwan's ability of design and manufacture through this project.
It is also a critical step for Taiwan to develop advanced high-power systems for satellites. "AMS-02 UTTPS project shows Taiwan's research energy and technique of space industry. This project aims to disengage Taiwan from the original equipment manufacturer (OEM) and to enhance Taiwan's space development to be an independent design and research industry." said Dr. Yang.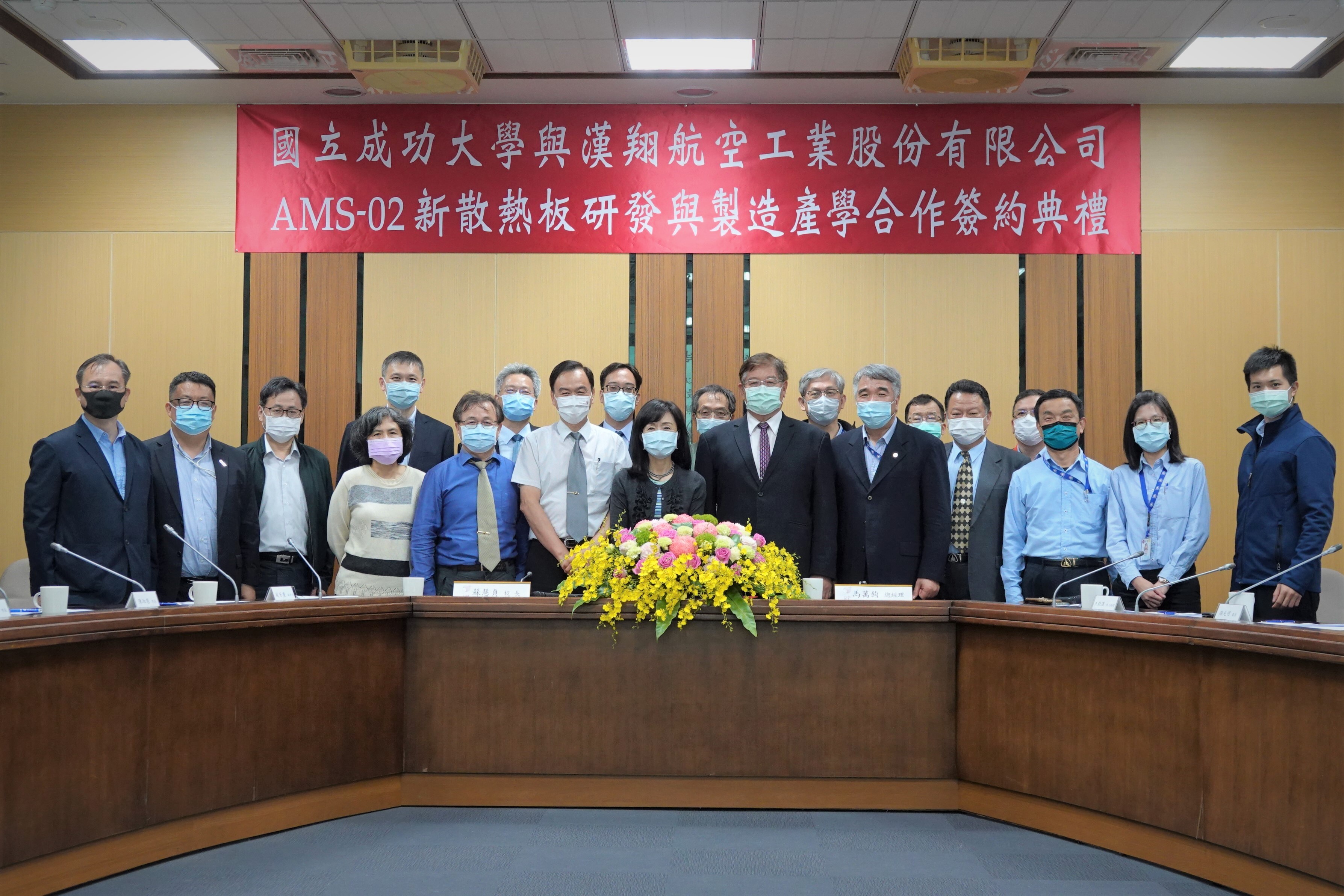 NCKU and AIDC, the two strongholds of aeronautics, cooperate again since 2019.
Focusing on exploring the unknown and learning the impact of ultra-high-energy cosmic ray, AMS-02 project, led by Dr. Samuel C. C. Ting, has installed Alpha Magnetic Spectrometer on international space station. AMS-02 is a large-scale international project whose research team is jointed with more than 60 research organizations and 600 scientists and engineers from 16 countries. Most important of all, research teams from Taiwan, includes NCKU, AIDC, Academia Sinica, and National Chung-Shan Institute of Science & Technology, play significant roles in this project.
Alpha Magnetic Spectrometer has collected more than 200 billion space radiation data since May, 2011. The amount of data collected by AMS-02 has exceeded the sum of radiation experiment data in the past 100 years, which has transformed our understandings of space. The data of space radiation also provide the information of reducing the radiation effects on humans during space travel in the future.
Alpha Magnetic Spectrometer has worked on international space station for more than 11 years. While implementing AMS-02 UTTPS project, the research team discovered unknown stains which will influence the
thermal radiation process of electrical system. Since installing new radiation plate is urgent, Dr. Ting reported it to Dr. Su on February 8th, and facilitated the cooperation between NCKU and AIDC. On February 11th, Dr. Su and NCKU research team visited AIDC and had a discussion with chair Kai-Hung Hu, president Wan-June Ma, vice president Bird Du and vice president Jennifer Chuang. After the meeting, NCKU and AIDC decided to work together in the upgrading project of AMS-02 and will look forward to a fundamental achievement.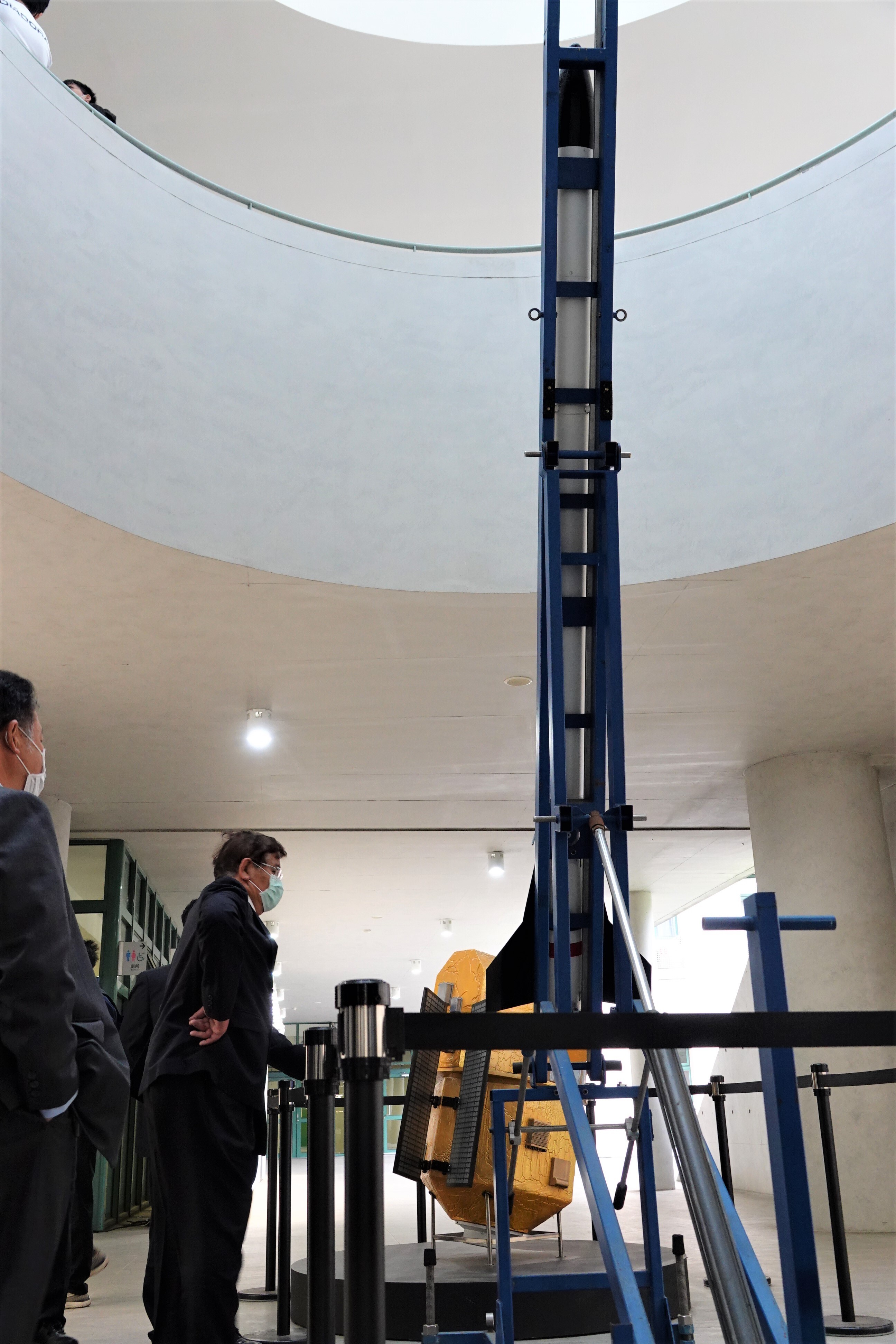 AIDC president Wan-June Ma, headed for Science Teaching Building to visit "90: A Story of NCKU Space" exhibition