President Meng-Ru Shen Led NCKU Delegation to Visit UMP, Aiming to Strengthen Collaboration in Scientific Research, Academia-Industry Technology Transfer, and Global Talent Cultivation.
Written by Amy Lin. Image credit to NCKU Office of International Affairs.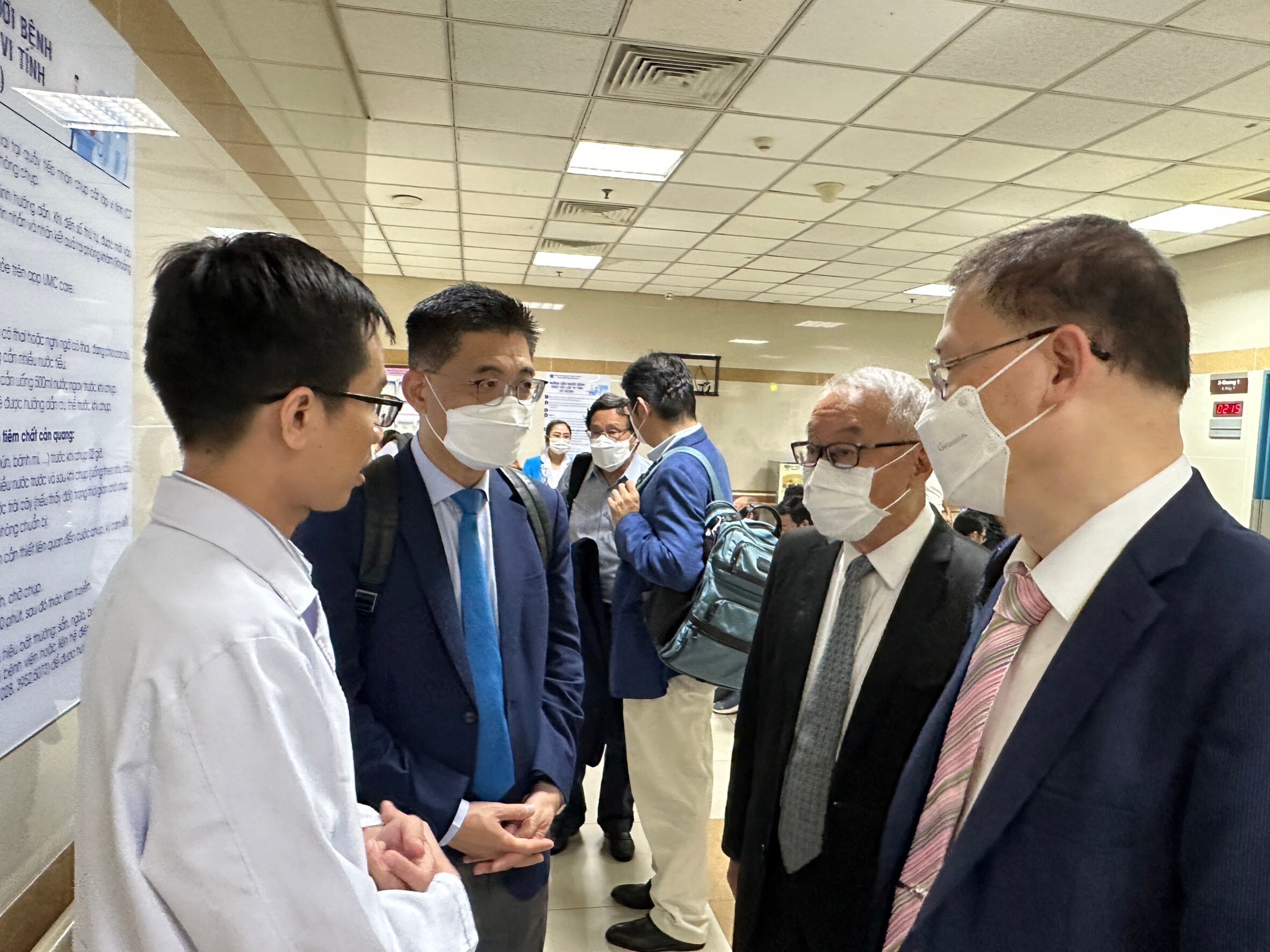 NCKU President Meng-Ru Shen led a delegation to visit UMP and its medical center on November 2nd.
Headed by President Meng-Ru Shen
, National Cheng Kung University (NCKU) delegation visited Ho Chi Minh City Medicine and Pharmacy University (UMP) on November 2nd. During the visit, NCKU delegation toured the UMP Medical Center to strengthen collaboration in science research,
academia-industry technology transfer, and global talent cultivation. Both universities aimed to expand the foundation of scientific research cooperation and foster advanced global connections, mobility, and exchanges.
As firm academic partners, UMP and NCKU launched the UMP-NCKU Joint Research Center in November 2017. In 2020, UMP became a SATU Presidents' Forum member
,
initiated by NCKU. The solid foundation for collaboration was set up during the tenure of former NCKU President Huey-Jen Jenny Su, demonstrating the considerate accomplishments of long-term academic exchanges between the two universities. UMP-NCKU Joint Research Center is also regarded as NCKU's overseas hub in Vietnam, enhancing communication efficiency and regional partnerships between NCKU, UMP, and their partner institutions.
In his address, President Meng-Ru Shen anticipated creating collaborative research outputs through cross-national activities and nurturing next-generation talents.
The mutual meeting commenced with a briefing of NCKU's latest updates and progress delivered by NCKU Secretary General Wei-Cheng Lo. Later, Dr. Jing-Wei Lee, Superintendent of NCKU Hospital, initiated discussions on potential research collaboration, mainly on healthcare, between NCKU and UMP.
President Meng-Ru Shen, in his address, expressed anticipation for the creation of collaborative research
outputs
through
cross-national activities
. He emphasized nurturing
next-generation talents
, creating innovative applications beneficial to the global society, and facilitating an international ecosystem that meets the sustainable development goals (SDGs) of the United Nations. President Shen believed that collaboration on education, encompassing student exchanges, internships, and industry-academia collaboration, would enhance a more fundamental corporation and explore the possibilities of trilateral collaboration with allied universities.
Dr. Chin-Chun Tsai, Dean of NCKU College of Science (the left), mentioned that the foundational research of College of Science is full of application potential.
Dr. Chin-Chun Tsai, Dean of NCKU College of Science, mentioned that the foundational research of College of Science is full of application potential. Dr. Tsai exemplified the application of mathematics and AI in the interpretation of medical images, the development of chemistry of nanomaterials in medical research, and the practice of semiconductor optoelectronic devices for the rapid detection of biomedical microsamplings, which illustrate significant interdisciplinary collaborations.
During the meeting, both universities shared current academic achievements, overall global strategies and goals. UMP representatives, including Chair of the Board Tran Diep Tuan, Vice President and Dean of the Medical Center Nguyen Hoang Bac, as well as senior representatives from Colleges of Public Health, Basic Sciences, Dentistry, Nursing, and Medical Technology, engaged in in-depth discussions with NCKU delegation. Both universities expect the joint academic research to boost cross-national collaborations, such as short-term intensive courses, co-teaching programs, mutual recognition of credits, faculty and student exchanges, and
cross-national
industry-academia linkages.
NCKU and UMP shared current academic achievements, overall global strategies, and goals during these two years.
Since 2017, NCKU and UMP have signed mutual agreements, covering student and faculty exchanges, joint research projects, the overseas hub, and extensive collaborations. Issues of joint academic publications of NCKU and UMP encompassed early nutrient intake for girls, the mechanisms of carcinogenesis of oral infection, air pollution and lung lobar emphysema, breast cancer detection, colorectal cancer development, and sleep apnea. NCKU delegation included President Meng-Ru Shen, Chair of NCKU Vietnam Alumni Association Jau-Hwang Hsieh, NCKU Hospital Superintendent Jing-Wei Lee, Secretary General Wei-Cheng Lo, Dean of College of Science Chin-Chun Tsai,
Distinguished Professor of Department of Physics Chia-Chu Chen, and Secretary Zoey Huang.
Founded in 1947, Ho Chi Minh City Medicine and Pharmacy University is located in Ho Chi Minh City, Vietnam. UMP was a medical school that belonged to the University of Saigon during the period of the Republic of Vietnam and emerged later as a prestigious national university excelling in medicine and pharmacy. UMP cultivates approximately 15,000 students annually and owns about 1,000 faculties. Academic structures of UMP include Faculty of Fundamental Sciences, Medicine, Pharmacy, Traditional Medicine, Public Health, Nursing & Medical Technology, Odonto-Stomatology, and the University Medical Center.
Provider:
NCKU News Center