NCKU holds 2012 graduation ceremony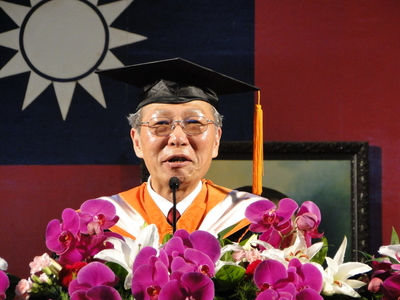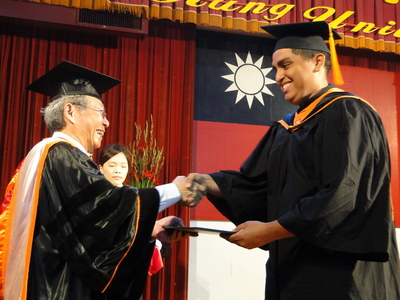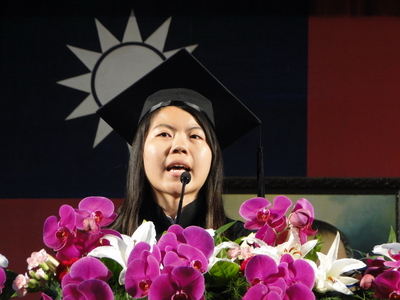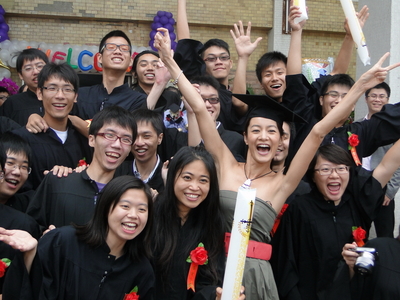 Tainan, Taiwan, 2 June 2012

More than 5,700 students are scheduled to receive their diplomas from National Cheng Kung University (NCKU), southern Taiwan, during graduation ceremony on Saturday.

"To overcome the obstacles ahead with the strength I gained from NCKU" is the oath called out loud by NCKU Class of 2012 graduate students all together at the ceremony.

In his congratulatory speech, NCKU President Hwung-Hweng Hwung encourages the graduating students to face the challenge ahead with the spirit of pristine practicality upheld by NCKU and urges them to make the most of the present time leading a healthy and happy life.

Janet Hsieh, the host of the Discovery Travel and Living Channel's popular series Fun Taiwan, presents an interesting picture of her with two of her so-called "the men she admires the most," President Hwung and Brad Pitt taken at NCKU Banyan Garden, inducing a good laugh from the students who are trilled about the special guest appearance.

She shares her own experience of being an intern in Taiwan when she was graduated from Massachusetts Institute of Technology (MIT) in America many years ago and the three lessons she has learned on the path of job-hunting with the students - "Don't be afraid of making mistakes", "Making friends" and "Be you."

"We are proud of being an NCKUer today and will make NCKU proud in the future," is salutatorian Chi-Jui Lee's message to her peers as she takes the podium at graduation.

Lee also expresses the feeling of bittersweet and overwhelming she and her fellow graduates are currently experiencing.

This year's graduate of the Department of Business Administration, Lucia Rodriguez has invited her parents from Guatemala to Taiwan celebrating the big moment with her.

"I have mix feelings about graduating because I'm sad to say goodbye with my classmates who are like brothers and sisters to me, and at the same time I feel good and exited about the new life we are about to embrace" said Lucia who just got accepted to study at IMBA, going to spend two more years at NCKU.