Taiwan, SKorea, World Customs Organization team up on data analysis project
A team from National Cheng Kung University in southern Taiwan's Tainan City is cooperating with South Korea based-Institute of Basic Science and Brussels-headquartered World Customs Organization on an artificial intelligence-powered data analysis undertaking.
The Band of Customs Data Analysts, or BACUDA, project aims to assist customs administrations in embracing analytical tools and methodologies. Largely obtained from front-line customs transactions, the data is complemented by open source information spanning such areas as crime, current events, geography, macroeconomics, pricing and transportation.
Potential applications include identifying fraudulent transactions and enabling customs staffers to gain a better understanding of border-related activities and supply chains.
NCKU's main contribution to the project is a deep-learning AI system capable of identifying irregular transactions. The Dual-Attentive-Tree-aware-Embedded, or DATE, model, is overseen by team members Li Cheng-te, an associate professor at the university's Institute of Data Science, and Tsai Yu-che, a student in the Department of Statistics.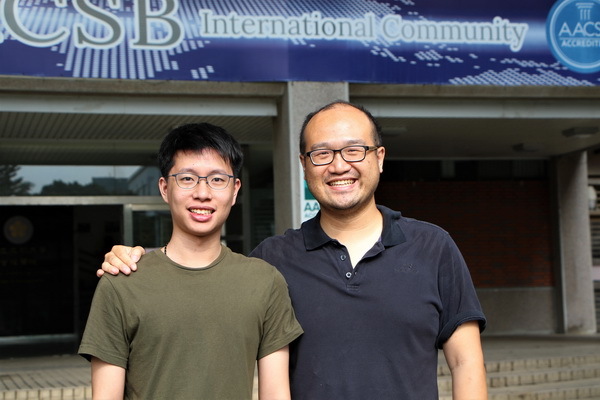 Associate professorLi Cheng-te (right), and studentTsai Yu-che, are leading Taiwan's participation in the WCO's data analysis project.
Both members joined the WCO team in November 2019, and their participation is supported by the Ministry of Science and Technology under the Columbus Program. The initiative seeks to provide young academics with requisite resources to conduct "bold and creative research" with a view to boosting the development of science and technology in Taiwan.
According to Li, real-time testing of the DATE model is underway on a weekly basis at the ports of Onne and Tin Can Island in Nigeria. Initial results are encouraging, he said, citing an increase in the number of fraudulent transactions detected by customs officials.
Although Taiwan is not a member of the WCO, Li said, NCKU's collaboration with IBS and the WCO demonstrates Taiwan Can Help promote legitimate trade, strengthen fair revenue collection and safeguard rules-based order. It is sincerely hoped this work will pave the way for the country's admission to the organization, he added. (TYT-E)
Write to Taiwan Today at ttonline@mofa.gov.tw